Milk Bank July 2020 Updates
For approved donors
Store your breast milk safely. Please ensure that your milk is kept frozen.  The Milk Bank can only accept milk for donation from our approved donors that have been frozen in a combination fridge/freezer for up to 3 months, or in a standalone deep freezer for up to 6 months.  
Due to current volumes of incoming donor milk, approved donors please let us know about 2-3 weeks before your milk will begin to reach those freezer expiry times.  If you only have a fridge/freezer combination does a friend, relative, co-worker or neighbour have a separate deep freezer that you could use to extend the life of your precious donation?   If some of your milk expires before it can be received by the Milk Bank, it is safe to use for your healthy term baby beyond the Milk Bank expiry dates.
Participate in research
We are now recruiting breastfeeding moms who have had COVID-19 for a research study. For more information and to get involved click here.
COVID-19
We are continuing to accept milk from approved healthy donors so we can process and distribute milk for the babies who rely on us. If you or anyone in your household are self-isolating or quarantined due to recent travel or respiratory symptoms, we are unable to accept your donation at this time. For any new donors, click here to see our donor protocol, which outlines the necessary steps you will have to take to be approved. We will update this site with new information as we manage this COVID-19 outbreak.
We are an accredited member of the Human Milk Banking Association of North America (HMBANA), who is closely monitoring the evolving COVID-19 situation. Please read their full statement on milk banking and COVID-19. 
Numerous safeguards are in place to protect the quality and integrity of every bottle processed including strict donor screening, validated pasteurization and microbiological testing.
Donated breastmilk can help save a baby's life
You can help save a baby's life by donating your breastmilk to the Rogers Hixon Ontario Human Milk Bank, an Ontario-wide resource for pre-term and sick hospitalized infants.
Who Benefits from Donor Milk?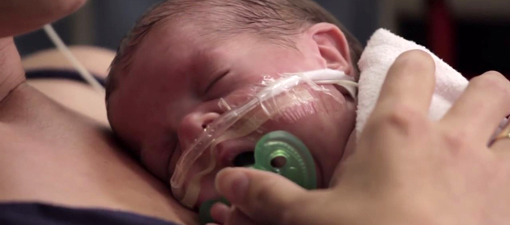 Donating breastmilk can help save a preterm baby's life by dramatically reducing the rate of a serious medical complication. There are approximately 1500 low birth weight babies in Ontario a year and 70% of preterm babies in hospitals across Ontario don't have access to a full supply of their mother's own milk, leaving them with reduced vital nutrients and protective properties.
A Gift from One Mother to Another
The Rogers Hixon Ontario Milk Bank is the only milk bank in Ontario to collect breastmilk from women, pasteurize it, and provide it to the most medically fragile hospitalized babies.