Celebrating Pride Month: Alysia and Rachael's Story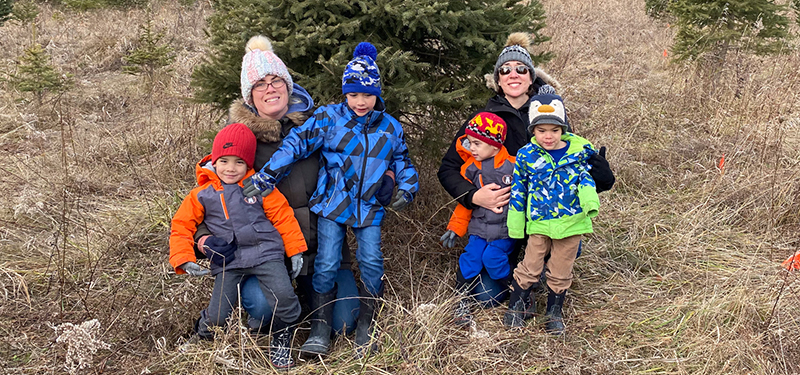 June is Pride Month – an opportunity to celebrate unique identities of the patients, people and communities the Milk Bank serves. The Milk Bank embraces an environment of inclusivity and continuous learning, and we are proud to stand with 2SLGBTQ+ families.
Alysia and Rachael's family grew a little bigger and their hearts wider when they welcomed three baby boys into this world at 30 weeks gestation. The first weeks of the babies' lives were spent in the Mount Sinai Hospital Neonatal Intensive Care Unit, where they were temporarily supplemented with donor milk from the Rogers Hixon Ontario Human Milk Bank. Below is a first-hand account of their journey.
After my wife and I found out we were having triplets, many thoughts raced through our minds. My wife Rachael, who was pregnant, also suffers from an autoimmune disorder, and her specialist was already at Mount Sinai Hospital. For us, there was no question as to what hospital would support us through the challenges to come.
Rachael ended up staying in the antenatal unit almost one month before the children were born, which ensured close monitoring for one of the triplets who was noticeably smaller than the others.
Our triplets ended up being born at almost 30 weeks at the end of September 2018. A team of dedicated professionals were already waiting to receive our babies and transport them to the Neonatal Intensive Care Unit. The smallest of the triplets weighed only 1 pound, 8 ounces, and soon after his birth he became sick with an infection. For a while, we were not sure what direction things would go in.
Another area that was a concern for us was ensuring our babies were breastfed. With three babies, supply was a concern but the hospital staff talked with us about the Milk Bank, and thankfully all three of our babies received donor milk while in the NICU. The social worker even aligned us with an opportunity to obtain a breast pump and this allowed Rachael to balance being present at the hospital with still being able to provide the milk she was able to produce to our children, in those moments when she was away.
Although the NICU is a busy and fast moving environment, both Rachael and I felt very well supported. The staff completed bedside rounding daily which was wonderful because it allowed us to participate in our children's care; we could hear what was going on and ask questions. Our smallest triplet had a longer journey, but just after that Christmas our best present was bringing our entire family home.
Once we were discharged from the NICU, Mount Sinai continued to check up on the children for three years. They performed standard tests to check their development and provided us with the best opportunity for early intervention. They also supported us emotionally and gave us tips on key areas, like how to get the babies to sleep better.
This September Harrison, Brodie and Oren will be five years old. This past year they started kindergarten and this summer their plans include playing soccer, going swimming and attending summer camp! They are happy energetic boys who love to explore the world around them.
When it comes to children having the best possible start in life, early intervention is key. We firmly believe that Mount Sinai Hospital and the Milk Bank gave our children that best possible start in life. Now they have the opportunity to explore their interests and live full lives.
Happy Pride from the English Family!
Alysia and Rachael, Henry, Harrison, Brodie and Oren
The Rogers Hixon Ontario Human Milk Bank at Mount Sinai Hospital dispenses pasteurized donor milk to medically fragile babies in 48 NICUs across Ontario and Atlantic Canada. The Milk Bank supports and serves hospitalized, sick newborn babies from families who do not have a full volume of parent milk.