Donor Spotlight: Andrea's Story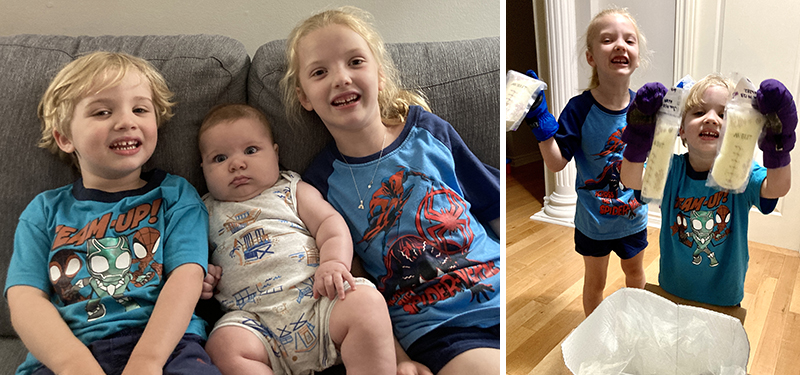 Andrea is a three-time donor to the Rogers Hixon Ontario Human Milk Bank. With all three of her children, she had an excess supply of breast milk and enough space in her freezer to stockpile the extra bags of pumped milk. After the birth of her first baby, she wanted to do something with the extra frozen milk on-hand. That's when her pediatrician suggested the Milk Bank.
"He informed me of how it helps premature babies in the Neonatal Intensive Care Unit," says Andrea. "He said – if you're okay with it, hospitalized babies can really use it."
Andrea shares that the first time around donating to the Milk Bank was all about getting used to the process.
"The Milk Bank made it really easy. They were great about sending boxes ahead of time so that I could send them off right away."
After the birth of her second child, she knew that she wanted to donate again – and then again after her youngest child was born. This time around, Andrea's two eldest children, ages 3 and 6, have become her little helpers, assisting with packing boxes bound for the Milk Bank with pumped breastmilk.
"I started stockpiling my breast milk right away. I thought, I know I can produce breast milk, so I'll take the steps to donate to the Milk Bank," says Andrea. "My six year old loves counting out all of the milk bags. It's like a math lesson," says Andrea.
Andrea feels it is important from a young age to instill the concept of philanthropy and giving back to the community, and she has ingrained these values into her own children. She recently found out that her friend's preterm infant in the NICU required human donor milk, and for her, that brought everything full circle.
"We've talked about how the donor milk goes to babies who are much tinier than their brother. They want to help out and it's great to know that we are giving back. With donor milk, you never know who you're helping out."
Donor milk can help save hospitalized babies lives, reducing rates of life threatening medical complications. We are so grateful to Andrea for her continued support and generous donation of breast milk to the Milk Bank after the birth of all three of her children. Thank you Andrea for helping to give these fragile babies a fighting chance.