Whitney's Story: A journey from surrogacy to breastmilk donation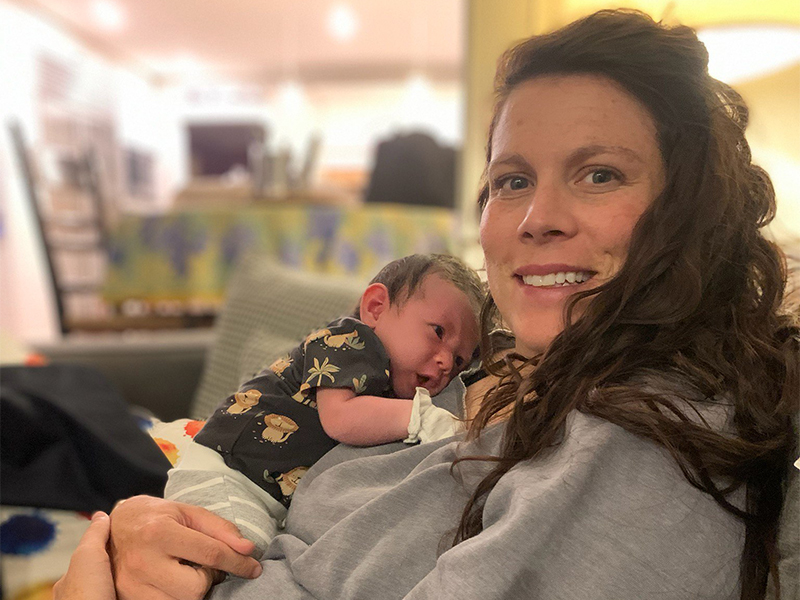 Whitney McGregor shares how her personal fertility experience unfolded a desire to give back through both surrogacy and donation of milk, to the Rogers Hixon Ontario Human Milk Bank.
Whitney and her partner never knew if they would be able to get pregnant on their own. They started their family through adoption and their family continued to blossom. Now the couple have four children, with their two youngest being born through in vitro fertilization (IVF). For Whitney, each of these experiences manifested a strong desire to help others, such as those who had been touched with fertility struggles, just as she had.
"I wasn't sure if I would be able to have a family on my own and when I was finally able to, I wanted to help others," says Whitney.
And that's what led her to surrogacy.
"It was an incredible process and I'm thankful that a healthy baby boy was born," she says. "I knew the couple would be staying in Canada for the first couple of weeks after the birth of their baby, so I started breast pumping when he was born."
Knowing the benefits of nutrient-rich breastmilk, Whitney initially began breast pumping solely for the baby boy. As the weeks went by, the nooks and crannies in her freezer filled with bags of extra breastmilk and so she began to explore the option of donating to a milk bank. When the baby and his family left Canada, Whitney continued to pump milk for donation.
"I had a good breastfeeding journey with my two youngest kids, so I thought about how important it would be, not only with the surrogacy, but to find any other way I could try to help others," said Whitney.
When it comes to balancing the time commitment of donating breastmilk with her day-to-day responsibilities, Whitney says that support from family and friends has been vital.
"I do think that pumping requires a lot of effort on my part, but also it definitely takes a lot of support from family and friends to go through this process."
With a strong itch to give back to her community, Whitney has continued to donate her breastmilk to the Rogers Hixon Ontario Human Milk Bank in the months following her surrogacy.
For Whitney, helpful reminders, shared best practices on breast pumping and guidance on the application process made her donation experience seamless, right from the start.
"It's a bit of a process to ship milk as well, but everyone was so helpful with laying out all of the directions for shipping. It was a lot easier than I anticipated. Everything was very streamlined and easy to work with."
Donor milk can help save hospitalized babies lives, reducing rates of life threatening medical complications. We want to express our heartfelt gratitude for the incredible gift of breastmilk that Whitney has given – helping to give these fragile babies a fighting chance.